I bought this bookcase last summer at a garage sale for $8. I don't know exactly how old it is, but it is at least modeled in the style of mid century furniture, with the short, angled feet and the cutout on the top shelf. And it was certainly beat up enough to show it had been kicked around for 50+ years. I asked my brother for some help, as he is a professional house painter, and lately has been moonlighting as a "furniture flipper" on the side. It was pretty dinged up, so rather than try to sand out all the imperfections and refinish it, he suggested a bright coat of paint. He said he'd help paint it, and that we should use spray paint to get a smooth finish and avoid the lines that brushes leave in paint. At first I was skeptical, because I've seen many a shoddy spray paint job on larger pieces of furniture, completely uneven and graffiti'd looking. But he assured me that spray paint can actually create quality results, and he has a pretty steady hand. I washed the bookcase and sanded down the dings as much as I could, and we went to pick out a color. I went back and forth on bright cherry red, mint green, or a medium shade of blue. Eventually I settled on Krylon's Indoor/Outdoor satin paint in Oxford Blue.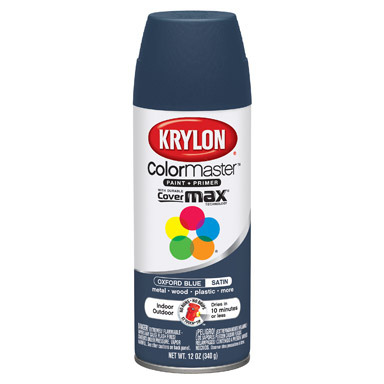 I left it for him to work on when he had time, and about a week later he sent me a text message picture, showing his masterpiece work ! I thought it was really cute how he "staged" it in my parents house, with the doily and plant.
Here it is in my apartment – with a few touches of my boyfriend's own decorating accents 🙂 It fits dvd's perfectly! The spray paint really went on beautifully, and it has a nice sheen to it.